SKIMMER
September 2013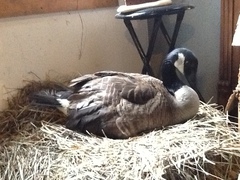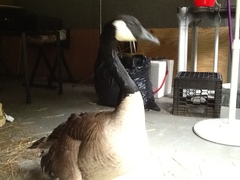 Debra Picard wrote to us in July desperately seeking assistance to capture a goose with a broken wing at a pond about five miles from her home in Rhode Island. Keith and Melissa Lanni, from Massachusetts, responded immediately. We received this email from Keith after the successful capture:
"Great news! We captured the goose yesterday (Sunday). It took 3 of us (Debra, Misse and me) and we had to go in the water to get her, but we did it! We had no other option, since there was hardly any land and she hardly came up. Debra was awesome. She was in chin-high water at times. Mine only came up to my waist! We flushed the goose out to the road and Misse got her. The goose appears to be a yearling. She has at least one broken wing. It looks like she was in a tussle, possibly with a dog on the short grass area at the water. She was bleeding at the shoots of her right wing, since the wing would get caught on her leg often when she walked. Misse applied antibiotic ointment, dressed the wound and wrapped her wing. Misse will send you pictures of her. She is safe in Rhode Island now. I have a vet appointment for her tomorrow."
The veterinarian x-rayed her wings and found two bullets embedded within. Debra kept the goose in her chicken coop and Misse named her Skimmer. She also kept him in her basement and recorded this video:
Then she began to look for a safe, forever home for her, preferably one with a pond during the day and a barn at night. She was willing to drive anywhere if it would be a safe home for Skimmer. She spent all day googling sanctuaries, contacting every one of them. Finally, she found a wonderful sanctuary in Pennsylvania. They had a lone Canada goose named Lucy Goosey who couldn't fly. Lucy had a best friend who was a duck. They hung out together all the time but when some new ducks arrived, Lucy's duck joined the new crowd and completely ignored her. Lucy became depressed so they prayed for another goose to show up. When Debra left a message saying she was looking for a forever home for Skimmer, they could hardly believe their ears! Their prayers had been answered!
We were ecstatic! If this worked out, it would be absolutely the perfect forever home for Skimmer!
Just before Debra drove Skimmer to the sanctuary, Keith and Misse rescued a duck who had a broken wing. The veterinarian said the duck would never be able to fly again and the sanctuary agreed to take the duck so the day before Labor Day, Debra and her friend drove Skimmer and Peep, the duck, more than five hours to their forever home.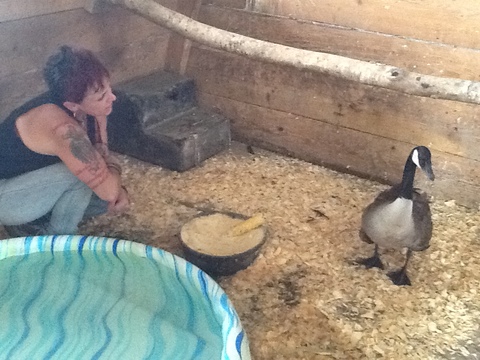 Skimmer and Debra in the barn at the sanctuary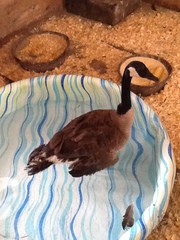 Skimmer enjoys a bath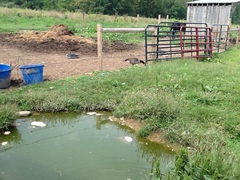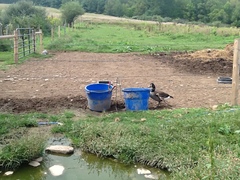 Lucy Goosey, alone in the sanctuary ...but not for long!!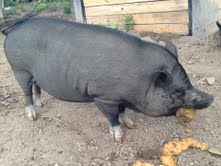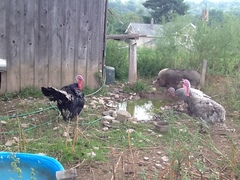 Some of the other residents ...there are about ten of these pigs from a neglect and abuse case, turkeys and a blind pig, one of the horses and a goat sniffing under his chin.
Skimmer has been introduced to Lucy and they're getting along. Peep has decided to remain with Skimmer.
This story would not have had such a happy ending if not for the kindness, selflessness, thoughtfulness and generosity of Debra, Keith and Misse. They did everything in their power to rescue and save the lives of these creatures, who had the bad luck to become injured but the good luck to befriend these good samaritans.
UPDATED PHOTOS: Life at the Sanctuary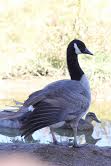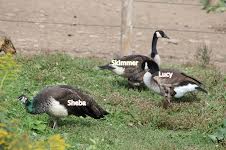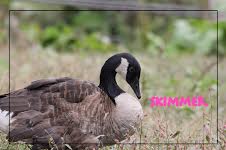 FROM LEFT: 1. Lucy and Peep 2. Lucy, Skimmer and Sheba 3. Skimmer in her pool 4. Skimmer at the sanctuary